September 16, 2017
Ketterman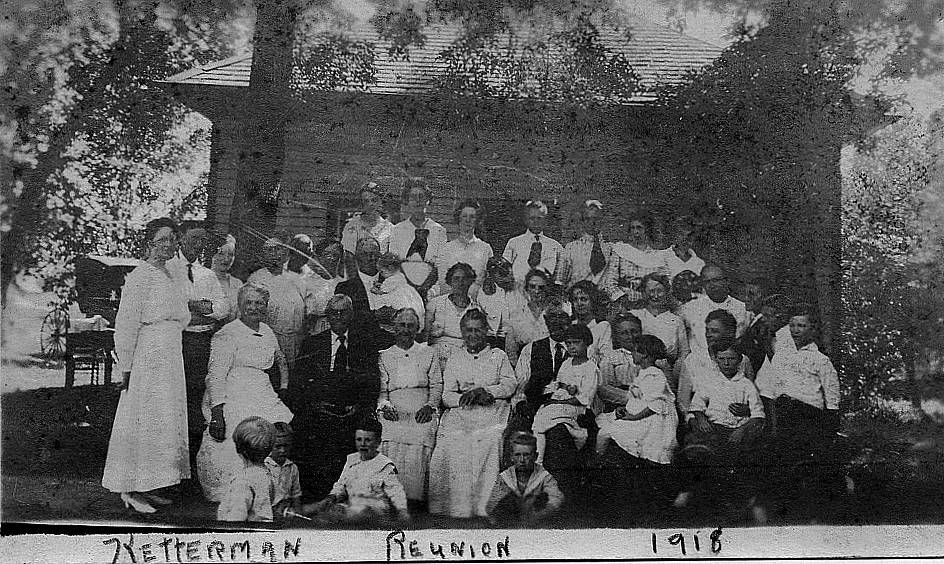 James S. Ketterman family reunion at Urbana, Iowa 1918. Ed Ketterman second from left. James with suit coat and Lucy next to him on right.
What are the chances of two men immigrating from the same country at about the same time with the same name? That is exactly what happened in the Ketterman/Kitterman/Ketteman family. Christopff Kettenmann born 1729 in Grobgartach, Wurttemberg Germany was the first with this name to immigrate to America. He settled in Frederick county, Maryland. His descendants used the name Kitterman and Ketteman.
The Kitterman stone house below circa 1750 is one of three original structures on the property built by Christopher Kitterman located at Rocky Hill, Frederick, Maryland. The home is in the National Registry of homes as it boasts one of the finest examples of German stone masonry in the United States.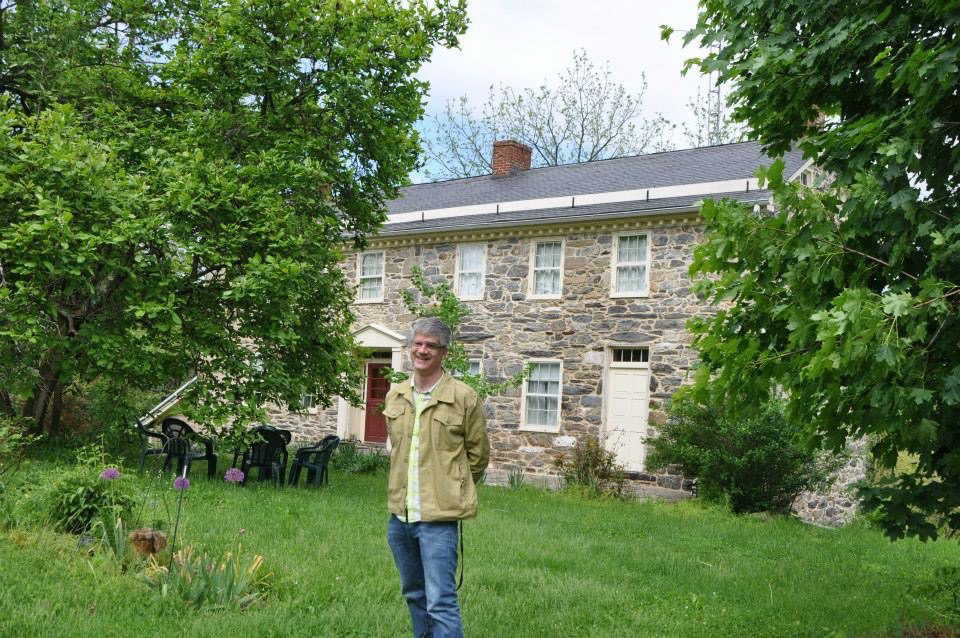 Next was a man with the same name but born in 1735. He went first to Pennsylvania but then migrated south into what was Virginia but now is West Virginia. His descendants use the surname Ketterman . Our family is descended from Christopff's and Anna Margaret Lawall's son George F. Ketterman
George F. Ketterman was born February 16, 1767. He married Mary Magdalena Henckel in 1793 in Riverton, Pendleton county, West Virginia. They had a large family and their son Justice W. was born 1795 and fought in the War of 1812 under his uncle Captain Jesse Henckel in the Virginia Militia. Justus married Mary Ann Wood December 23, 1819 in Greenfield Ross county, Ohio,
By 1838 the family had moved to Muncie, Delaware county, Indiana where they had a son James Sparr Ketterman. In 1845 Justus was elected Constable for Delaware county. In 1852 the family moved to Benton County, Iowa. Juatus died January 16, 1867 at Urbana, Benton county, Iowa. Mary Ann lived 20 years longer and migrated west with her granddaughter to Kansas.
James married Lucy Jane Storts whose parents came to Iowa from Perry county, Ohio on September 23, 1860. Lucy's father was John Harter Storts.
James and Lucy are the grandparents of K. P. Ketterman.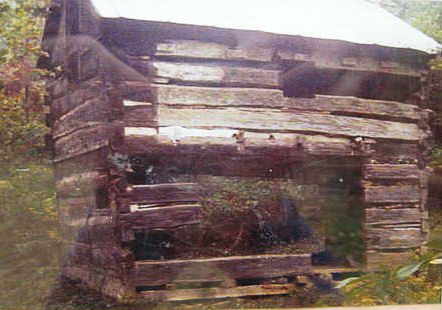 This Ketterman smokehouse is located in Pendleton County, Virginia. This is on the farm Where George F. Ketterman and Mary Henckle raised their family. The town of Ketterman is located at the end of Smoke Hole Road, in the Big Bend National Recreation Area Campground. The Smokehouse chimney and foundation, and a house foundation still exists near where once was the town of Ketterman. (N 38* 53.385', W 79* 14.280) Photo courtesy of Danny Hingley.
All that is left of the Post Office and the town of Ketterman in Smoke Hole Canyon in West Virginia.